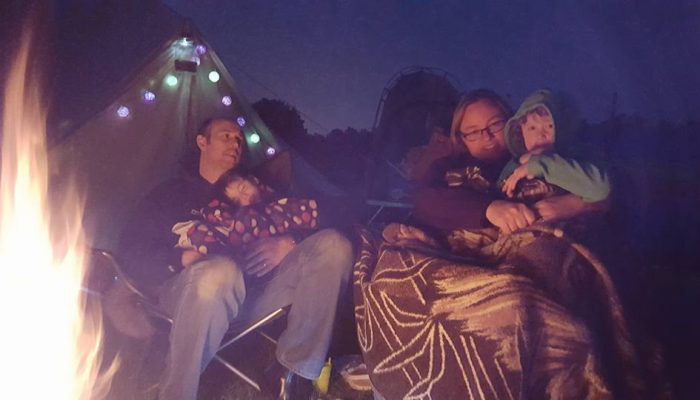 Keeping warm at night while camping with kids
There's not a lot worse than being chitteringly cold in the middle of the night camping.  Ok, being eaten by wild animals, perhaps, ok that's a lot worse but being cold is torture! Especially if you have young children with you, it can take the fun out of camping and tired children are known for their joy to be around!
After spending a few years out of a tent and in a campervan, we'd been a bit spoilt and when we got back to tent camping again last year that first night we remembered the cold. We've spent a few more nights out in the tent with the kids since and think we've got it about right.
Here are my top tips to warmer nights camping.
INSULATION
Top priority goes to insulation underneath you. In our pre-children camping days we would put a space blanket underneath us, then carry mats, then unless it was a festival, we'd have an inflatable mattress on top of that. And sometimes a duvet on top of that too. So at the very least put a space blanket underneath you or better still a thermal-backed picnic blanket! With two little ones, one of whom has very little body fat and gets pretty poorly if she gets too cold, we go to town on insulation between us and the ground. We probably, in fact, go over the top, but I don't care.
Our layers go a little like this:
Tent carpet/picnic rug (thermal backed!)

Foam interlocking mats (like these: foam interlocking mats on Amazon – affiliate link, also available for £10 from B&Q for a pack of 6) or carry mats

Self-inflating mattresses (we used to use regular (actually Queen size double height) inflatable mattresses but found these got really cold overnight as the air inside cooled down, the inside of self inflating mattresses is foam that expands making them warmer overnight)
Sheepskins. This is my ultimate tip when it comes to camping, if you have sheepskins, bring them camping, there's a reason they're been used for thousands and thousands of years as beds. Though I would prefer to say we have beautiful British sheepskins, the skins we take camping are actually the big four skin (phnar, phnar) sheepskin rugs from IKEA.
Us – either under a duvet (me) or in a sleeping bag (the boys). We are toying with investing in some good all season toasty warm sleeping bags this year.
Then there's often a blanket over the top of us all. Thing 2 has slightly different rules and it will be different again this year as she has a sleep system to content with too, I'll probably do a separate post on camping with extra needs on that at some point!
CLOTHING
Pyjamas alone rarely cut it unless it's mid-summer. Onesies are good for children who no longer need to pee in the middle of the night (quick note while on the subject, bring a bucket, if your child is happy to and still small enough, put pyjama pants/pullups on them for overnight). Socks and a light fleece jumper are a good idea, generally a few layers will do the job and a good sleeping bag. I put my youngest in a knitted onesie and gloves! Have an extra layer to hand in case they wake up cold.
CLOSE YOUR TENT BEFORE THE SUN GOES DOWN
Before all that lovely, hopefully, sunny warmth leaves the tent, close all the zips! It will also stop your tent filling up with any local bugs seeking shelter for the night.
GET INTO NIGHT CLOTHES EARLY
You can't beat a campfire to cosy up in front of as the sun goes down, it's what camping is best at, but before you get yourself snuggled up in front of the fire, get the kids wrapped up and ready for bed, once the sun leaves and it starts to get cold anyone still in shorts and tshirts will get cold and once you're cold it's much harder to get warm again, starting your night cold is never a good plan. Likewise, leaving the campfire to then have to strip off in your cold tent to put your night stuff on does not happy campers make! Before heading out to chat and sing and have a bit of fun in front of the fire, get some warm socks and shoes on and wrap yourselves in a warm blanket or coat.