Raising Independent Children
Our son is 32 months old today and what a day, today he told me with a beautiful smile while I was pumping that he has cows milk now, not Mummy milk. He shares our bed and we 'pander' to his needs, I carried him on my back until he no longer wanted to be carried.
They said we were making a rod for our own backs, he needed to be left/in a pram/settling himself to sleep/in his own bed. We said we were raising him to be independent through dependance and the security of attachment.
This morning his Daddy, who usually makes breakfast, had to leave for work before we woke up. While I was changing his baby sister's nappy, he came downstairs and made us both breakfast. My heart melted when I walked into the kitchen to this scene.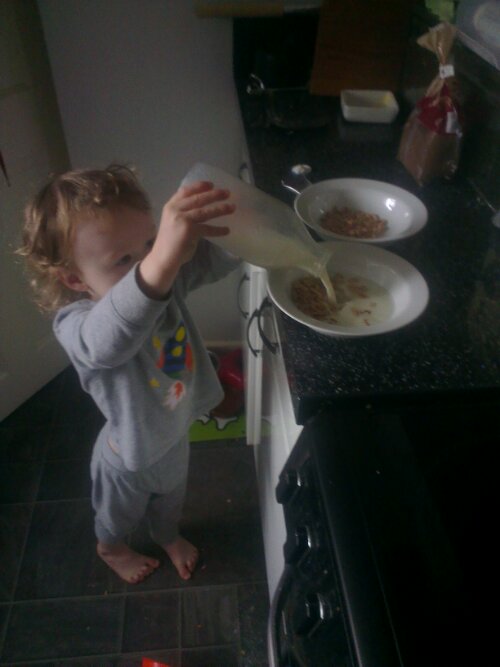 I admit that when I could hear the cereal cupboard opening and the clatter of bowls I had a little smile and thought about cornflakes everywhere but how wrong that little thought was. The cereal had been poured and put back in the cupboard, the milk back in the fridge.
He can dress himself properly, too. So if you're at the start of your attachment parenting journey, have faith, if it isn't the way you were parented you may question and be questioned but our beautiful son at 2 years and 8 months today, got up and made his Mama and himself breakfast as his Daddy would usually do.
I sent the picture to his Daddy and made a grown man shed a tear in public 🙂 Love that boy. Just when I needed reassurance that we were parenting in the right way for us, he's been mega whingey the last few days, he shows us that we are.