Music Festival with a Disabled Child & Toddler
Brave? Think so. In fact, I feel incredibly proud of us as we drive along the M4 towards Malmesbury, home of WOMAD.
W isn't best pleased and she's almost certainly a bit hungry because she has less milk before getting in the car or the whole thing comes straight back up.
Chops is up front reading a book and munching on a pear, ready to drop to sleep at any moment. Ah, he's just gone 🙂
.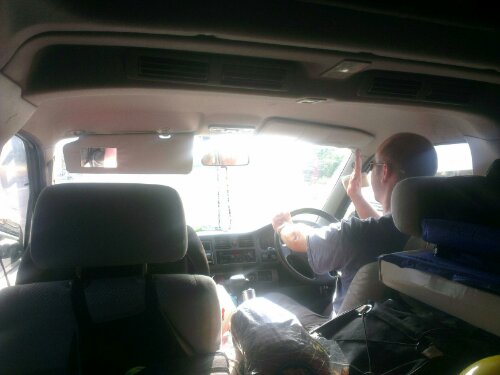 It's taken some planning to get this far, oxygen needed delivered to the festival site halfway through the weekend, we needed to ensure we had access to power to charge W's suction pumps and feeding pump, fortunately WOMAD are better organised than we were and despite not getting in touch until the last minute, all but one of the people we spoke to have been incredibly helpful.
I think it was left to the last minute because Happytechie was having cold feet about it. We have to think about milk, keeping tubes clean, charging various bits of kit, the journey itself, medicines, bottles and syringes, a whole host of stuff we didn't need when we came with Chops when he was 11mo.
Something pretty special is that I contacted one of the fab food vendors, Camp Cooks, via Facebook and asked if they would be able to blend some of their yummy food up for W so she could have what we're having and they replied to say no problem! I'll no doubt report back on that one, but we're so excited that she's going to get some festy food! She'll be having a few smoothies too, I'm sure, and we've got unsalted peanut butter at the ready to add for extra calories, the girl works hard y'know 😉
All said, both kids are going to have a great time. What better stimulation for them both than seeing the sights and sounds of the glorious World of Music, Art & Dance (WOMAD, The World's Festival). The report from the music therapist said she responded very well to live music, so bring it on WOMAD